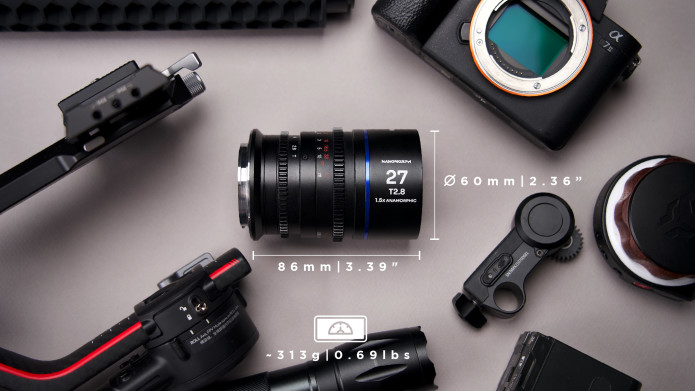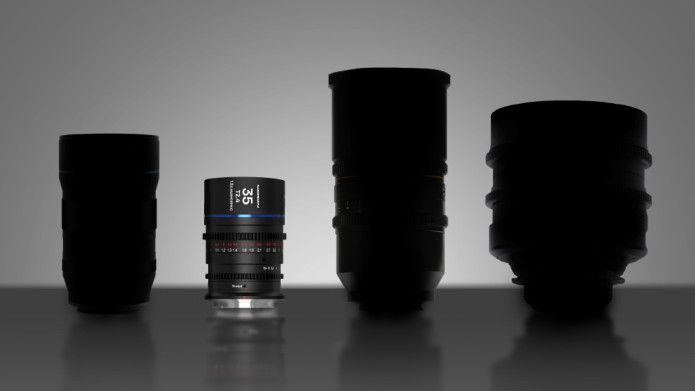 Anamorphic lenses are always Huge and Heavy. This revolutionary "NANO-sized" lens weighs less than 0.7 lbs (320g) and is only 3.54″ (9cm) long, making it very handy for every set-up e.g. handheld, on a gimbal, on a slider, through tight space, even on a drone, etc. It makes a lot of formerly impossible shots possible.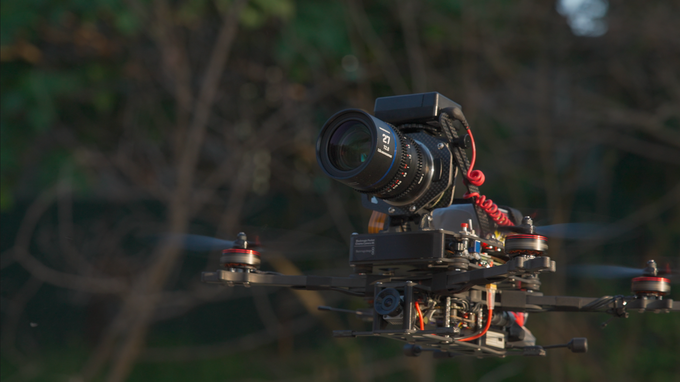 Most anamorphic lenses in the market cannot be lifted on drones with the weight limitations. This compactness of the Nanomorph series opens up new possibilities and options for drone pilots.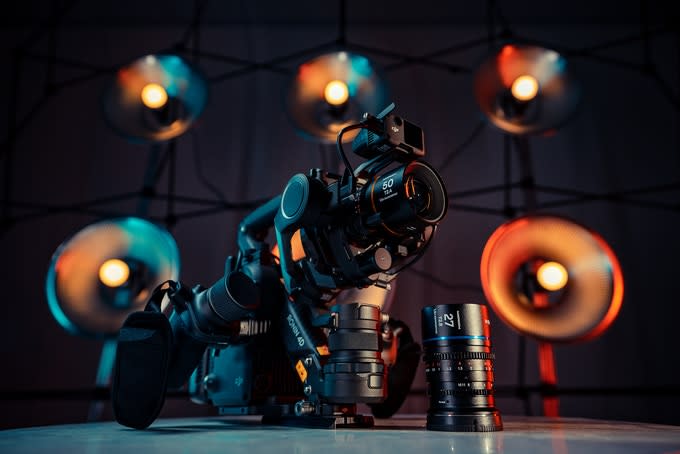 Compatible with DJI Ronin 4D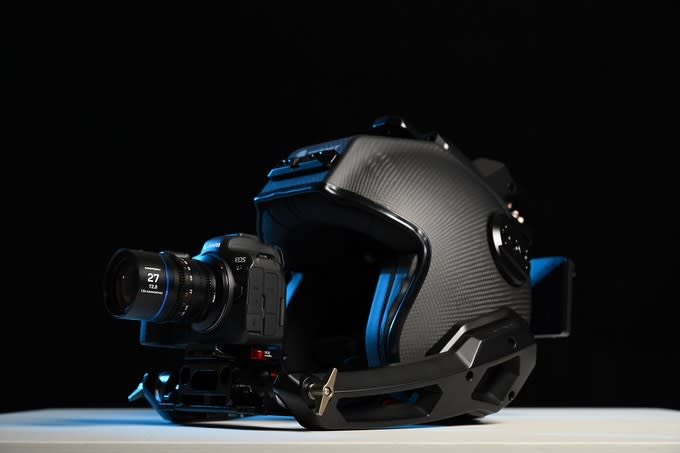 On a POV helmet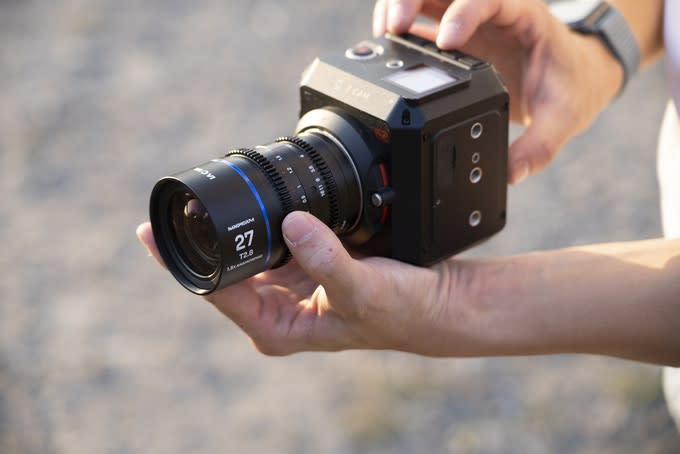 Handheld with no stabilization
© Masaru Nonoshita – Compatible with DJI RS2 Pro with 3D Focus System
© Keaton Bowlby – On gimbal

The lens is specially designed for Super35 (APS-C) & Micro Four Thirds sensors. But the larger than S35 coverage of the Nanomorphs allows the lens to be used on Full Frame cameras like Sony A7siii 4K 16:9 with only mild vignetting. (Check Alexandru's footage above)
See the coverage testing on Full Frame. 

3 Flares options are available, Amber, Blue & Silver. Anamorphic lenses with blue flares are very common in the market and they fit perfectly with a sci-fi and cooler vibe. The amber option delivers a warmer and passionate vibe suitable for narrative and day/night shots, while the neutral silver flare can be adapted to different colors according to the hue of the light source.

© Rawspektiv

© Rawspektiv

© Cammackey
© Zachary Moxley
© Keaton Bowlby
© Keaton Bowlby
From 16:9 to cinematic 2.4:1 widescreen
With a 1.5x squeeze, you will have a 2.66:1 on a 16:9 sensor after de-squeeze. Comparing to 1.33x anamorphic lens, Laowa Nanomorph delivers a much more pronounced anamorphic & cinematic look. For 1.8x/2x squeeze, the lens will become huge and a lot more image will be wasted when pairing with 16:9 sensor.
Spherical lens vs Anamorphic lens
Anamorphic Lens offers a more wider horizontal field of view and shallower depth of field than spherical lenses.
Five Focal Lengths

A 1.5x squeeze ratio also renders stretched oval bokeh which gives an artistic touch to the image.

© Alexandru Don – 50mm T2.4 1.5x
© Mellow – 80mm T2.4 1.5x

© Alexandru Don – 50mm T2.4 1.5x
A 1.5x squeeze ratio gives a stronger sense of compression and a more oval bokeh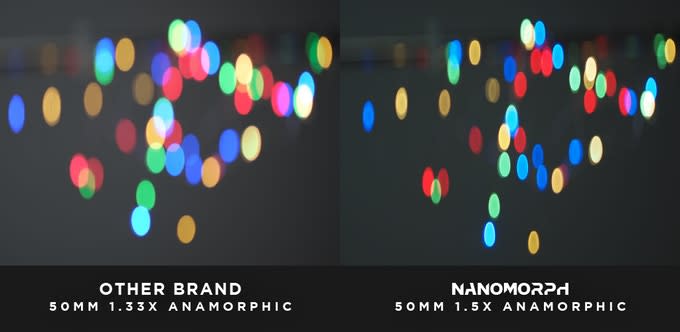 Anamorphic lenses tend to have longer closest focusing distance due to restriction of optical design. Nanomorph has one of the Shortest Close Focusing Distance among all anamorphic lenses in the market. Filmmakers could obtain a very close-up shots which renders much shallower depth of field and stronger bokeh. This offers a much higher flexibility in framing.
(From the subject to sensor)
Nanomorph 27mm T2.8 1.5x Cine –  43cm / 1'4″
Nanomorph 35mm T2.4 1.5x Cine – 60cm / 1'11″
Nanomorph 50mm T2.4 1.5x Cine – 70cm / 2'3″
Nanomorph 65mm T2.4 1.5x Cine –  70cm / 2'3"
Nanomorph 80mm T2.4 1.5x Cine – 70cm / 2'3"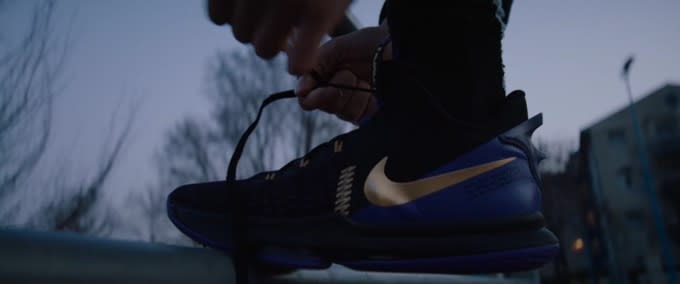 © Rawspektiv – 35mm T2.8 1.5x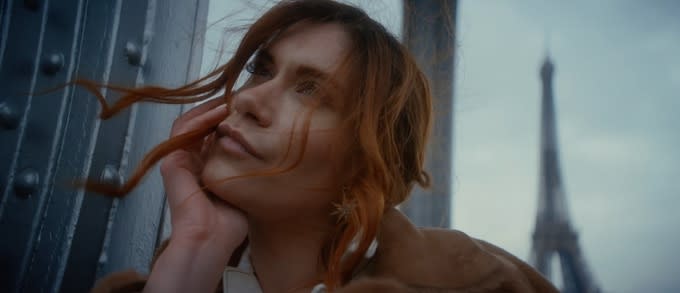 © David Tergemina – Trg.prod – 35mm T2.4 1.5x
NO ANAMORPHIC MUMPS
In some cheaper anamorphic lenses with synchro focus designs in the market, the squeeze ratio varies when adjusting focus. Hence, there are some changes in the actual size of the subject. That's what we call anamorphic mumps.  There is no way to correct in post and is not usable in professional shootings. Our Nanomorph guarantees a constant squeeze ratio at ALL focusing distances.

For cheaper anamorphic lenses, anamorphic mumps made the lens un-usable at a closer distance (e.g. a 1.8x lens will become 1.62x when focused at 0.7m). For more professional designs out there, the lens is bulky and costs a fortune. That's the reason why Laowa decided to develop and invented this unique patented anamorphic design to guarantee a uniform squeeze ratio, promising optical quality, tiny size and affordable price which solves the struggles of every anamorphic user.
The anamorphic blocks are put behind the spherical elements and the focusing groups. These two groups compress the image, and hence the smaller anamorphic blocks can be used, which makes the lens tinier. Moreover, the image is formed and focused before the anamorphic blocks which maintains a constant squeeze ratio no matter if the focus changes.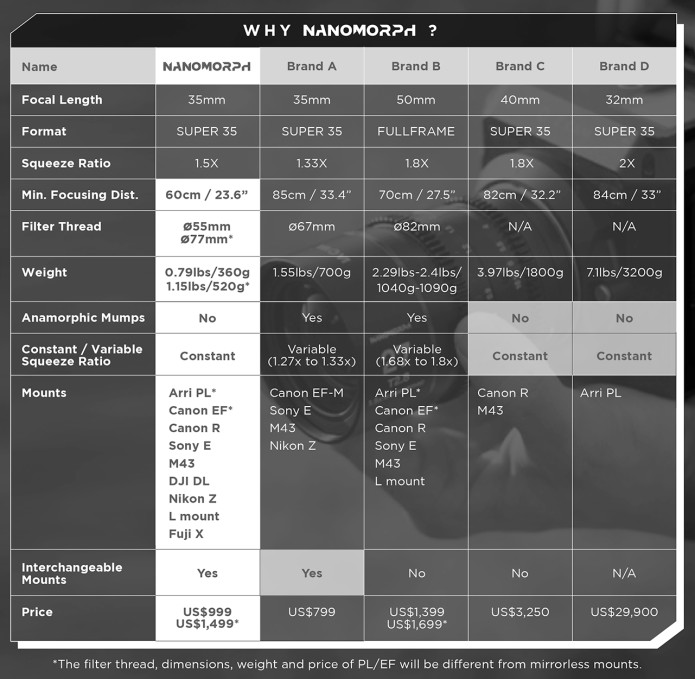 We currently offer 2 different versions of Nanomorph. Mirrorless version & EF/PL version,
For EF/PL version, Both EF & PL Mounts are included in the box and the mounts are user inter-changeable.
For Mirrorless version, Canon RF, Sony E, M43, DJI DL, Nikon Z, L mount and Fuji X are available and they are also interchangeable. Each lens will come with ONE single mount bayonet.